About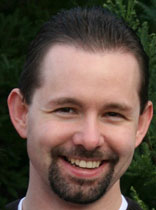 Professionally, I'm a software engineer working at Pearson which is a large education company.  I spend most of my days working on large Java web applications, everything from the design, infrastructure, coding, interface, and testing.  I also now develop mobile apps for devices such as the iPhone and iPad.  We recently released one of those products last year called PowerTeacher Mobile.
I completed my undergraduate studies at California State University Sacramento in 2003.  During that time I was an officer in the local Association for Computing Machinery (ACM) chapter responsible for creating an maintaining the organizations web site.  I was also a member of the Competitive Robotics club and joined them in their first major competition in Las Vegas Nevada.  In 2009 I decided to go back to school and complete my Master's degree in Computer Science.  I'm expecting to graduate in Spring of 2012.
When I'm not in school or at work, I'm helping my wife take care of our two children.  I have two beautiful little girls and they do keep me pretty busy.  However when I do find time I also have many side projects.  One current side project is helping Barobo get their website up and running.  Some other hobbies I have is gardening, watching MMA, and generally working around the house.