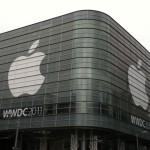 I had the opportunity through work to attend Apple's Developer Conference this year.  This is my first time going and it was a lot of fun.  I was really impressed with what Apple announced. Since I'm under NDA I won't discuss the specifics, but it looks like a lot of work that apple has been working on for a while is starting to come together. The only down side was the amount of time I had to spend waiting in long lines.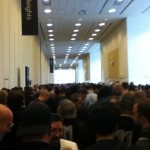 I monday morning I got in line around 6 am and it was already wrapped around the building, I guess the first person got in line at 1 pm on Sunday. I can't believe people would wait in line for that long, it's just not worth it to be that close. There were lines to get in the building the first day but some of the better sessions were wrapped as well. Lines for the party on Thursday…
Speaking of the party on Thursday, as I expected the guy to girl ratio was pretty bad.  Guessing I'd say it was 100:1. It was so bad that the band Apple got to perform made a comment about it.
I learned a lot about various Apple technologies and I can see using many of items discussed in existing and new projects.  I can't wait until Apple releases everything. If I get a chance, I'll post more about the technologies that I've had a chance to play with so far.  Personally I think Apple is quite ahead of their competition at this point.